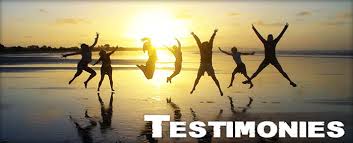 Testimony March 3rd 2019:
Pastor Mervin & Evangelist Monique January received a 5th year celebratory Pastorate Anniversary dinner!
Testimony June 2018:
Baptism Service - 3 baptisms completed!
Testimony December 2017/January 2018
On December 7th, while traveling on Interstate highway 5, Pastor January was rear-ended in a 4 car collision, which produced head trauma that was later diagnosed as a light stroke on 12/12/2018. God proved Himself as a miraculous Healer allowing the pastor to be healed within 5 weeks. On January 29th, another driver ran through a traffic light that was red and "once again" totaled out the vehicle being driven by the pastor. This 2nd collision was just as traumatic, but God proved that His hand of protection was involved in both accidents. Pastor January walked away from both accidents successfully. WON'T HE DO IT! (again & again) This is a ministry of HEALING! Come and witness the power of the Lord Jesus who reigns forever...
Testimony December 2017
Saved to Serve Ministries has now added an online store which will use ministry tools to carry the Word of the Lord to those in need. Types of media includes CD's, DVD's, and upcoming books.
Testimony October 2017:
In business, Pastor J. was forced to sue a company who refused to pay his business. He won a default judgment in court and the other company still refused to pay the $2,900 that was owed to his company. He prayed and God moved! Can you say the check was in the mail? Won't He do it! Hallelujah.
Testimony September 2017:
Saved to Serve Ministries met for worship service in Dawson Park, a local Portland, Oregon public park. During the service, the people in the park were still drinking alcohol, shooting craps, and smoking all manner of "stuff." But, for a brief moment, as we were singing a capella, EVERYONE and EVERYTHING in the park stood still. By the end of the service, several people had come over to sit in on the service. Finally, during the altar call, 1 lady gave her life to Jesus. Won't He do it!
Testimony June 2017:
Baptism Service - 7 baptisms completed!
Testimony April 2017:
On April 3rd 2017, Sis. Lenita was blessed with a new better job.
Testimony April 2017:
On April 3rd 2017, Sis Lenita received a $100+ credit on her light bill.
Testimony April 2017:
On April 2nd 2017, Bro. Mark received good news where his daughter was on the verge of being financially unable to pay for her college tuition. She met a person on a park bench who was willing to give resources to pay her remaining balance.
Testimony June 2016:
Baptism Service - 12 baptisms completed!
Testimony July 2015:
On July 3rd 2015, Deacon James was upset and at his wit's end on a job where he had lost his joy. In fact, he was contemplating leaving this job of almost 30 years before. He went to the Lord about it and realized that it was in his best interest to stay where he was. Later, he informed us that he got a job offer making significantly more money from a company. He was adamant in that he was not even looking for a job. This is evidence that God is ALWAYS in control!
Testimony May 2015:
On May 1st, 2014, Pastor J. Calls out spirits: We have a sister named Nicole who hopes to be coming back to church soon. I prayed for this sister at my office. When she went home, one of her so-called friends told her, "why did you have somebody pray for you and I'm here? "Nicole thought this was weird as she told the so-called friend about the prayer. The friend heard of all the spirits being called out and had to leave. They have not spoken since!"
Testimony May 2015:
Baptism Service - 16 baptisms completed!
Testimony April 2014 :
April 2014 - Sis. Daijsa applied the principle of giving tithes and offerings, showed consistency to God, prayed for a new car, and "received it"
Testimony April 2014 :
April 2014 - Bro. Chezeray applied his faith by believing in God to receive a job, came up for prayer, and consistently attends church ministry services. Guess what, he got "a new job" and a car to get there. "won't He do it!"
Testimony April 2014 :
On April 4, 2014, Mr. George Bingham lay in his hospital bed, asking for a chance to be saved, repeated the prayer of Salvation and received extra days on his life like Hezekiah before going home to be with the Lord on April 21,2014.

Current Events
Contact Information:
Saved To Serve Ministries
Post Office Box 86835
Portland, Oregon 97286
Tel: (503) 358 - 9159
Fax: 1 (800) 725 - 1439